When we're not careful, we can find ourselves judging someone based on only what we perceive as being the truth. Because we will never know everything about someone, our judgments will never be completely accurate.
This doesn't mean that we should welcome any and everyone into our life. That's not using wisdom. But it does mean that we don't get to condemn them.
Our Interpretations
One of my favorite quotes says that we don't see others as they are—but as we are. That's powerful.
Most of us tend to interpret others based on our own past experiences, unhealed hurts, and personal beliefs. In fact, sometimes our eyes are layered with so many filters, we get to a point where we become blind.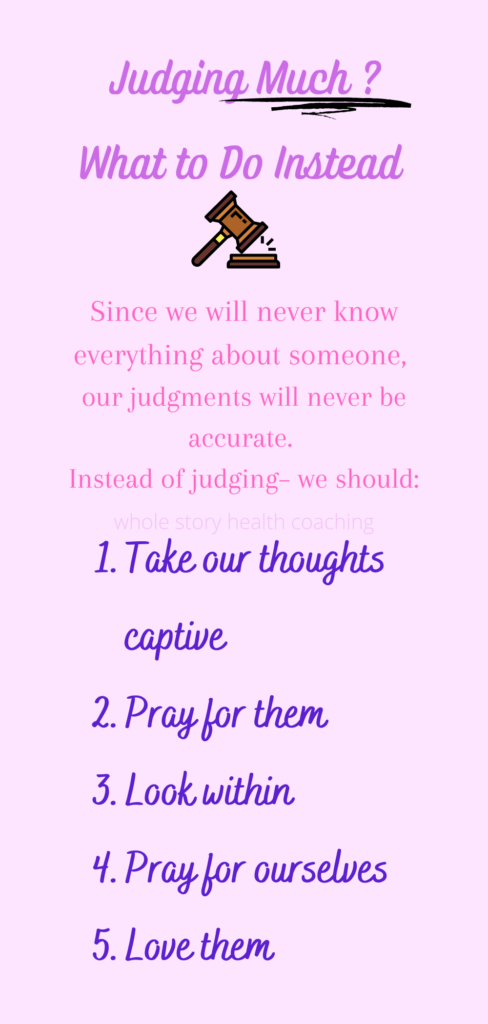 Though, we may think we know what drives someone (and we may even be right about a portion of what goes into what we are seeing), we will never know the whole story.
Our perceptions are guided by what we feel, instead of what we are accurately seeing—like braille for the mind.
We don't consider the other multitude of factors and even unseen spiritual influences—which all play a role in what people do. No matter how we try to put others in a box, we and our behaviors are complicated.
Most importantly, we will never know anyone's heart or future.
1 Samuel 16:7
But the LORD said to Samuel, "Do not consider his appearance or his height, for I have rejected him. The LORD does not look at the things people look at. People look at the outward appearance, but the LORD looks at the heart."
We Don't Get to Judge
I recently saw an Instagram post aimed at stopping people from calling others toxic. Instead, she suggested that people recognize the behaviors as toxic without labeling the person. I agree.
Not only does it prevent us from being judgmental, but it also trains us to see red flag behaviors that:
violate our boundarie

s
are not Biblical

go against our values

distract us from a Biblical life
Knowledge of what is unhealthy for us allows us to discern and decide who to allow or remove from our lives—not from a standpoint of judging, but by using wisdom.
What to Do Instead of Judging
Words are powerful—a point the Bible reiterates throughout its pages. They can speak life or destruction. Judging is not speaking life.
Additionally, we must remember that judgement will go both ways—a fact that we often forget.
"Do not judge, or you too will be judged. 2 For in the same way you judge others, you will be judged, and with the measure you use, it will be measured to you.
So, what can we do when we are tempted to judge?
Take Our Thoughts Captive
start to notice what we are thinking
take a "thought" time out and pray
examine the contents of our heart
bring our thoughts into alignment with Scripture
subject them to the obedience of Christ
Pray for Them
Prayer is a powerful tool and weapon for spiritual warfare. If we are witnessing something that is judgment worthy, wouldn't it also be prayer worthy?
Imagine how much closer we would be in our relationship with Jesus if we learn to pray every time we want to gossip or judge.
Plus, what we think we are seeing has deeper roots. Prayer is an opportunity to help another person move toward healing. Judgment doesn't help them or the condition of our own spirit.
Look Within
Out of the abundance of the heart, the mouth speaks. That should give us pause. If we take time to listen to ourselves , we may find out some interesting things about what's going on within—us. This takes our eyes off trying to see "what's wrong" with everyone else.
Matthew 7
3 "Why do you look at the speck of sawdust in your brother's eye and pay no attention to the plank in your own eye? 4 How can you say to your brother, 'Let me take the speck out of your eye,' when all the time there is a plank in your own eye? 5 You hypocrite, first take the plank out of your own eye, and then you will see clearly to remove the speck from your brother's eye.
Focusing on other people, judging them, and gossip are just as devastating to our spirit as our critical words are to theirs.
Pray for Ourselves
Praying for ourselves is one tool we can use to help discover and dismantle our strongholds and bitter roots—while extinguishing the fiery darts of our words.
Being attentive to our words, thoughts, and feelings associated with our judgments will the in her struggles that we need to take to the Cross.
Love Them
Matthew 5:21-22
"You have heard that it was said to the people long ago, 'You shall not murder,and anyone who murders will be subject to judgment.'

But I tell you that anyone who is angry with a brother or sister will be subject to judgment. Again, anyone who says to a brother or sister, 'Raca,' is answerable to the court. And anyone who says, 'You fool!' will be in danger of the fire of hell.
Loving our neighbor can be one of the hardest things we are called to do—and judging can be one of the most dangerous things that we decide to do. Pay close attention to the last sentence. Considering some of the things people call each other, "fool" seems like such a small deal…but it's not.
When we struggle to love someone, we have to ask, "Why?" , and wait to hear from God, even when the answer seems obvious. Then we must be willing to be healed and made whole. Depending on why we dislike or are judging the person, we may not want to move in the direction of forgiveness and love.
But , we must remember that judgment is a spiritual heart problem—and love is a spiritual heart solution.
Take Your Captive Thoughts to Christ
I'll admit this takes a lot of practice and willingness, but the effort is worth it.
Since our thoughts direct our paths, taking our thoughts captive to the obedience of Christ is a powerful weapon in defeating the spiritual warfare around us.
Thankfully, it also helps us to win the battles that rage within us.
Not only do we gain control over what we think, but we also give ourselves the opportunity to control our tongue and change our actions—like judging.